Menu
Youghal Amenities
Situated on the coastline of East County Cork, the town of Youghal is regarded as one of the most popular tourist destinations in Ireland. This historic walled seaport town adjoins a 5km blue flag beach and, because of the many historic buildings and monuments within its ancient town walls, has been designated as an Irish Heritage Port by the Irish Tourist Board.
Fishing in the River Blackwater (noted for salmon, trout and excellent coarse fish), golf, sailing, angling, pitch and putt and yachting are just some of the facilities that are located either nearby or in the town. Guided tours are available daily at the local tourist office (left), telephone +353 (0)24 20170
Youghal is a historic town which can be seen from it's many beautiful and well conserved buildings and the five kilometres of sandy beaches. The beach is just minutes away from Avonmore House where you can enjoy an nice morning or evening stroll.
Standing on a site devoted to religious worship from early Christian times, The Collegiate Church of St. Marys (left), has undergone many alterations since it's rebuilding in the early 13th century. Built in 1220, this is one of the few Parish churches of the period still in use today.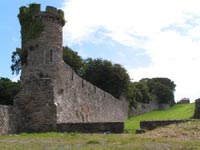 The first record of the town walls (left), is a charter of 1275, granted by King Edward I, for their repair and extension. The walls surrounded the town on the shoreline as well as inland. Most of the inland portion still survives today and are accessible through the grounds of St. Mary's Collegiate Church (above).
The Clock Gate was built in 1777 but in 1795 the tower was found to be too small and an extra storey was added.It was used as a prison until the mid 19th century. In 1798 a failed Irish rebellion against English occupation resulted in more than twenty prisoners being hanged from the tower.
Myrtle Grove. This attractive house was the home of Sir Walter Raleigh when he was resident in Youghal. It was purchased by Richard Boyle, first Earl of Cork, in 1602.
5 miles of Blue Flag Beaches
18 Hole Golf Course
Heritage Centre
Greyhound Racing
Sea and River Angling
Sir Walter Raleigh's House
Tyntes Castle
Town Walls
St Mary's Collegiate Church
Equestrian Centre
Bird Watching
Bowling
Canoeing
Tennis
Pitch and Putt
Snooker
Youghal is a bustling town with many shops, pubs and restaurants. We are sure that you will enjoy your stay at Avonmore House.