What's on the Menu at Avonmore House?
Enjoy a cooked breakfast in the dining room
Choose a delicious breakfast from our extensive menu served between 08:30 and 09:45 every morning. All prepared and cooked using local and organic ingredients where possible. From the display fridge you can pick-up an overnight oats, fruit compotes and orange juice together while your chosen dish is created in the kitchen. Homebaked ham and local cheese are also available. Vegan and Gluten Free options.
Continental Breakfast in your room
If you're up and away early or fancy a sleep-in, you can opt for a continental buffet which will be stocked in the mini fridge in your room. This includes fresh homemade boiled ham, boiled eggs, cheese, tomatoes, apple compote with yoghurt, fresh orange juice, homemade bread (dairy free and gluten free on request). All are homemade or locally sourced. The water supplied is free from fluoride and chlorine. (pic by timolina)
Selection of Teas
 A variety of organic teas and coffee are available in each room with our own grown mint tea from the leaf on request.
Organic Homemade Breads
All of our bread is baked onsite, including 48hr fermented sourdough rolls, irish soda bread and flourless oat bread. (Gluten Free on request)
Variety of Breakfast Cereals
A wide variety of breakfast cereals are available. (Gluten free on request)
Sourdough Pancakes
A major favourite at Avonmore. Our own recipe from our "sourdough starter" of several years delivers a hot rolled pancake filled with greek yoghurt and stewed apple.
French Omelette with Mushroom á la créme
Sautéed mushrooms and onions mixed with cream, parsley and chives. Optional slice of bacon. Available in the dining room only. (Ham and Cheese omelette also available).
Frittata
Perfect lighter alternative to the traditional "Full Irish". Omelette cooked on the hob and finished off in the grill topped with melted cheese. Filled with bacon, Clonakility Puddings, onions, mushrooms and tomatoes. Gluten free and Veggie options available.
Organic Scrambled Eggs with Organic Smoked Salmon (or bacon)
Fresh scrambled eggs with topping of your choice all laid over a bed of home baked sourdough toast. Fried and Poached eggs available if preferred.
Avocado and poached eggs on sourdough toast
Smashed avocado with hint of lemon, lime and a tap of chilli for that kick in the morning. Topped with two poached eggs. (fried eggs if preferred).
Protein Boosting Smoothie
Breakfast in a 500ml glass. Full of raspberries, bluberries, banana, avocado pear, organic flaxseeds, filtered water and organic protein powder. ( v, df, gf )
Apple Compote
Apple compote is available in the dining room and included with the in-room continental breakfast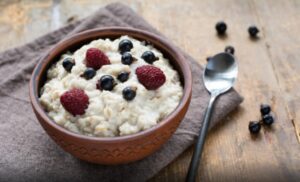 Porridge
Porridge is included with the in-room continental breakfast and available on request in the dining room
Overnight Oats
Overnight Oats with fresh apple compote and berries. Delicious cold jar of soaked oats mixed with yogurt, seeds, nuts, apple, cinnamon and berries. (dairy free and gluten free on request)
Boil an egg in your room!
With our easy to use boiled egg maker, just pop your eggs in the machine and switch on for 5 minutes. Part of the "in-room continental"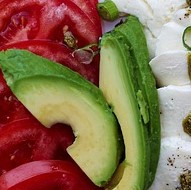 Avocado Sourdough Toast with Cottage Cheese
Topped with red onion and organic tomatoes.
Java Republic Freshly Ground Coffee
At Avonmore we grind our own Java Republic Organic Freetrade enabling us to offer the freshest coffee for you upon arrival.